Branding Your Photography Business – Part 2: Business Cards
Part two in this four-part branding your photography business primer takes a look at photographers' business cards. You can find part one here.
You'd be hard pressed to find a functional business without a business card – no matter what industry. Photographers are no exception – and in fact their business cards get much more creative than most industries. Different sizes, shapes, tabs or holes and of course lots and lots of images. What goes into a business card and what you should think about if you're designing it yourself can really help solidify your branding style. Here are a few things to consider for your next round of business cards.
Can I Find You?
The ultimate purpose of a business card is to leave someone with your contact information and usually direct them to your website. Always keep that at the top of your head. Your business card is an action step. If a client doesn't know where to go next from it, you've probably lost any business that might have come in from handing it out.
Keep your information clearly organized on your card. Make sure your name, number, e-mail and website are on there. If you're going for that ultra-minimalistic look, at least make sure the one piece of info you do put on the card is a link to the rest of your contact info. Again, remember that your card should be an action step to reach out to you.
My general recommendation is to keep all your contact information on one side of your card. I've seen a few people who opt to put their website on one side, and additional contact info on the other. You'd be surprised how many people don't think to simply flip your card to the other side.
Representing Your Visual Style
Like any other piece of your branding, your business cards should work with your images, not against them. Nothing will throw your clients off more than an edgy, fashionable card and fun-filled images on your site. What you're saying to them is that you don't really know what you're trying to evoke with your style, you just happen to be taking some nice shots here and there. Fonts, colors, card shapes and designs can all add to or subtract from your brand. Designer be wary!
You can try making your own business cards, or working with a designer to help put together a few options for you. That's exactly what I did when I worked with the crew at The James Agency again. I knew I wanted something fun that captured my lifestyle and travel work. Together we came up with the idea for luggage tags and put the rest of the pieces together. Today, it still gets wows every time I hand it out to a new client. That's exactly the effect you want with your business cards – just make sure your images back up that wow factor!
Photos on the Back
As photographers, we're obviously in the image business.  The biggest question most photographers often have is whether to include photos on the back of their cards or not. It's a very subjective question, but here are a few things to consider.
A back of the card image shows someone immediately what it is that you do. Definitely place a lot of thought into what image you put on there – because it's going to have to represent your entire body of work and create an actionable impression. Ask yourself, "would I want to see more based on this image?" If the answer is no, don't even think about putting that on the back of your business card. You can also consider putting a different image on 4-6 cards, giving you a variety of work. This mini collection usually looks great together, but don't put any image on there you wouldn't feel comfortable standing alone to represent your work. Thin the herd to the best of the best of the best.
The downside to images on your card can be a negative client impression. What if a client really likes your entire body of work, but they just don't like that image you chose for your business card? Chances are you'll never know because they might not bother to look at the rest of your work if they don't like that one image. They weren't inspired to see more. The other downside can come when you're starting out and getting better with every shoot. You may print a round of 200 cards, hand out 50-100 of them and then a month or few months later hate having to hand out old images that no longer represent your work. It happens a lot! Think carefully if your work is ready to last as long as those cards will – or if you don't mind tossing them out and spending money on new ones.
Saving as Vector PDF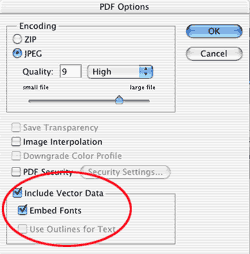 If you're designing your own business cards, one of the biggest factors in quality can come down to how you save those files. Nothing is worse then thinking you have a cool design, uploading a jpg to the printer, and receiving back grainy text files. To prevent this, you'll want to save your files as vector-based PDFs. This will hold the resolution of text based files when sent to your printer. It's a lot simpler than it sounds.
First, find out the dimensions of the card you'll be printing to and create that size file to work on in Photoshop. Make sure you check with your printer about any trim margins so that you don't cut off any important texts. As a rule, try not to put anything too close to the edges anyways. Ensure you don't rasterize any of the layers then save the file as a Photoshop PDF – that's a .PDF or .PDP file extension. Below you will see a box that says "Include Vector Data" and "Embed Fonts." Check both of these. Voila! Now it's ready to send to your printer and maintain your text resolution.
Where to Print
There are countless numbers of printers across the globe. Where you go depends on your budget, the style you want and paper quality. If you're running on a shoestring budget, the cheapest printer will probably be a local Kinko's (FedEx Office) or other mass market budget printer.
There are also a lot of options to upload online to printers and have your cards shipped to you. One that has been especially popular amongst photographers is moo.com because of their thick quality, ability to print multiple images and mini cards.
Consider working with and endorsing a local printer as well – as long as you get the quality you want. Helping your local market is always a plus and continues to keep businesses running in your community.
Keep these tips in mind and you'll be on to better branded business cards.